365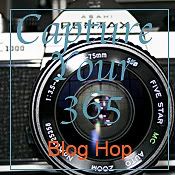 I'm back on the 365-train again. And with this blog post I'm
thoo-thoo-ing away as part of the Capture Your 365 Blog Train.
If you asked me a month ago I would have said:
"No way I'm ready for that just yet, maybe when I hit 40 in the summer. It would be fun to document my fortieth year with a photo from each day, but no sooner than that"
But then Katrina Kennedy started her new site Capture Your 365 and I couldn't help myself but started up again on March 6th of this year.
And since then I've been shooting away. Finding inspiration everywhere. And when I'm stuck I can always find Katerina's prompt of the day and see if that can steer me in the right direction.
It's not that I haven't tried the project before. I've tried several times. But each time I've struggled after a while. Mostly with keeping my blog/flickr up to date on the everyday photos and with adding words to each of my one photo of the day. Even though the photos are important in them selves I always long for a few words to go with them. It don't have to be so many, just a few is enough. Here is a link to my 365 photos on Flickr, check back for updates 🙂
And here is a few of my favorites from the month of March:
I'm not sure if this go is different and if I can keep it up all trough the year, but it feels a little bit like I have a better work flow of things:
Firstly (1) I shoot the photo each and every day (or if I miss it I find (or snap) a photo that captures the story I want to highlight from that day and find that to work nicely – sometimes life is happening just too fast). Secondly (2) I choose my one POTD (photo of the day) and run it through Photoshop Elements for a little touch up (or a lot, depending – sometimes I love to make it black and white, sometimes I want to dim the colors, sometimes crop a little). Thirdly (3) I upload both a web sized photo and a high resolution photo to my flickr steam, making the web sized one open for everyone to see (the high res. is set to private). And lastly (4) I upload the POTD to the Capture Your 365 Gallery.
I think it's the last bit of my work flow that gets me going every day (or when I get some time to work with the photos) – I love the comments I get and I love to see what others involved in the 365-project have snapped. It such a friendly and great group of people to belong to!!
I invite you to get to know a few of them here on the Blog Hop and next on the list is: Sarah
Here is the full list of blogs (in case you get lost):
1. Jill
2. Gayle
3. Tracy
4. You're Here!
5. Sarah
6. Sharon
7. Michelle
8. Katrina
9. Kathleen
10. Erika
11. Gabi
12. Christi
13. Joey