life | projects
The Simple Things | Flying A Kite
There have been so much going on this weekend. Good stuff, like the two Confirmation services with the youths. We've been having classes since last fall, and it's always so fun and special to see them all dressed up and beaming with pride and joy about their day. To sum it up there were a lot of smiles, sparkling eyes and white 'angles' walking into the church for a special service. There were parents and family that watched with pride and even a few tears in their eyes. It was all good and beautiful, and for me a little bitter sweet – this is the end of our year together and I'm going to miss them. A lot. I hope they have learned something about God, themselves and about how we are called to care for others. I hope they bring Jesus with them on their journey ahead. And I wish them all that is good, and Gods blessing too.
So, after a  whole day of this I went to the farm to pick up MT. He has been there from Saturday to Sunday to give me some time to prepare and hold the above mentioned services. I know he would have a fun time there. Playing with their kitten, being outside or watching TV with his Grandma (she is so much less strict than me and keeps the TV on most of the afternoon/evening. MT doesn't mind much!). I love that he has this bond with them and that he looks forward to visit them at the farm.
When I got there I saw MT standing in the field and when I looked up in the sky I saw a flying kite. MT was so happy. The wind was just right, Grandpa had taken the time to untangle the line and MT was all smiles standing still leading the kite on while the wind did the rest. And I got to take photos. I didn't care about breaking all the laws of photography and shot right against the sun catching the whole scene of him, the green grass, the kite and the blue sky.  Such a simple thing, but it made my day. A perfect ending to a already fantastic nice day.



So, how were your Sunday?
……………………………………………………..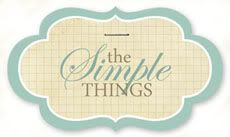 It's my second go @ the simple things, I love the idea of this.
I hope I can keep it a regular thing on Mondays.