life | projects
The Simple Things | Happiness
Saturday I snapped a few photos during a half an hour (or so) break outside. I tried to capture the feeling of the every day life's blessings. I tried to capture the happiness of the small things. I loved how it felt playful at the same time as meaningful. I've been working on and off with these photos (and words about them) ever since. And now I'm ready to share them with you. (If you want to read a little bit about each of the photos you can head over to my Flickr steam or the Simple Things photo set, I also made a layout with the above photo and you can find it at Flickr as well: This Photo | The Story).
I really have so much to be grateful for in my life. I only have to remember to look for it + dare to play a little to catch it. It helps to slow down the pace a little as well.
Good luck hunting for happiness. I don't thing we'll ever have too much of that stuff, so be on the look out every day. I sure will.
……………………………………………………..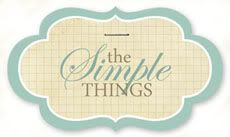 It's my 3rd go @ the simple things, I love the idea of this.
I hope I can keep it a regular thing on Mondays.