There is something to the task of finding 10 things. I can see so many possibilities for blog posts to write as the months go along. So glad Shimelle introduced this blog challenge 😀 Read more here: 10 things on the 10th of the month.  If you read my blog a month ago I gave you my kid's list of ten things he want to do this summer. This time I'm doing another summer list; my own.
Summer Want-To-Do List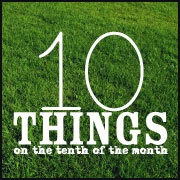 Go fishing, biking or bathing with MT


Read one good book (at least)

Take lots of photos

Have breakfast in the sunshine

Go visit or get visited by family and friends

Light candles outside on a warm summer night

Barbecue in the back yard

Do 'week in the life' with Ali Edwards

Enjoy long light evenings

Scrapbook
Some of these things I have already done. #5 is happening right now, so I have to run and join our friends for a walk around our little town, it's their first time here and MT have lots to show 😀 Good times!
Wish you all fun and playful summer!
………………………….
AND Thank you, tank you for your nice birthday wishes! So sweet! So far 40 is a good year; it's been only 3 days though 😉