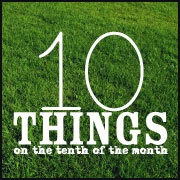 As I sit here watching the temperature crawl down to 10 degree Celsius, feeling the fall approaching with the sharp cold rush of air even when the sun is out during the day – and seeing the first yellow leaves appear on the trees around me – I want to savor summer. So here are 10 snippets of it, brought to you in Hipstamatic style:

Our neighbor's cool bus. Love the greens.

My kid after the bath. Love the goggles.

My kid in the mirror. Love his smile. Do you see me?

Delicious ice cream. Love the green and brown combo.

The tree, the sky and a good friend. Love spending some time together on a beautiful day.

Distorted view of the farm. Love the effect.

Putting fishes in his bucket. Love the sunshine.

Trees by the lake. Just love the look of them against the blue water.

Ready for some fishing. Love the silhouette effect.

Paddling around on the lake. Love how much fun he had on that thing.
…
So there 10 good thing captured and remembered.
Thanks for looking, hope to see you around - leave a comment if you want.
What 10 things do you have to share?