General, life | projects
Ok. I have to admit it. I miss summer. I miss the sunny warm weather. The lazy days. The living as much outdoors and indoors. I miss it for sure, but, I also love the fall season. And I want to embrace the right here and now, so here is my 10 things I'm happy and grateful right now: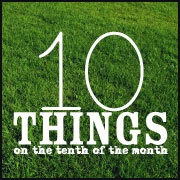 1. I'm happy and grateful for my son, how he is growing, learning and having more and more faith in himself.
2. The nature is turning into fantastic colors. And the forest is filled with berries. We should go pick some….
3. Football season started again. And MT loved that, I love watching them play as well.
4. We've had several sunny days. Got to love that!
5. I can capture the beauty with my camera and look at in on a rainy day.
6. Come to think of it, some of the rainy days are kind of beautiful as well.
7. School and work are starting up again and the days have some structure.
8. We're both healthy and non of us have caught the flue yet.
9. It's still warm enough for nice walks down by the river.
10. September mornings are misty and glows with the first ray of sunshine on a nice day, I love them.
So, what do you want to embrace in the season you're in right now?!